South African Shoe Size Guide
As you may know, even in 2022, shoe shopping online isn't easy in South Africa. You may be a size 8 for Superga sneakers, a size 7.5 for Converse, and a size 7 for Puma, oddly enough. It often feels like a guessing game to find your exact shoe size. We explore why this is the case and more below.
Read on to find out more about shoe sizing and measurements, or, skip ahead to how to find the right shoe size online.
Note: The shoe size charts are not necessarily the exact sizes of our shoes, they are meant to serve as a general guide officially used by various shoe manufacturers.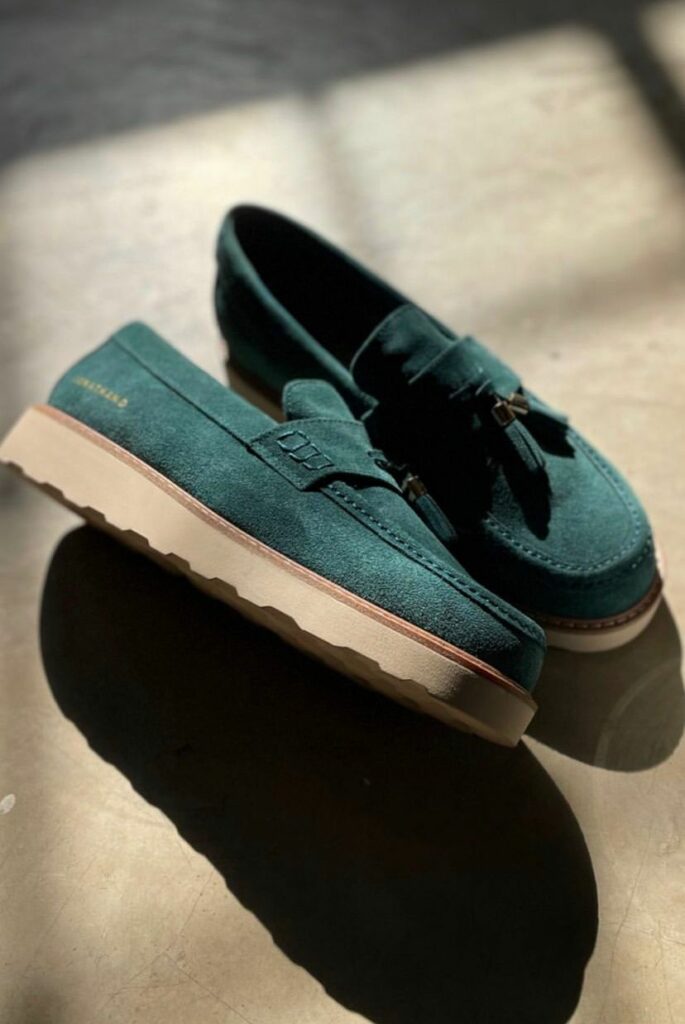 Why it's important to choose the right shoe size
This may seem obvious because naturally in most cases one wouldn't want to choose a shoe of the wrong size, since it may be uncomfortable or even impractical to wear. So why else is it important?
Wearing a shoe that fits your foot properly, not loose and not tight, provides a good platform for your feet to support your body, since your feet need to support the weight of your whole body for the most part of each day.
If you wear a shoe that is too tight it may lead to blisters and calluses. On the other hand, wearing a shoe that is too big may cause you to walk in an unnatural and dysfunctional way. In addition, incorrectly sized shoes are prone to wear and tear a lot faster than shoes with a good fit.
Aren't shoe sizes standardized?
Different shoe brands and styles vary in size since they have different manufacturers and each brand develops their own personal fit for each size of shoe. Hence it's not likely to find a certain fit llining up perfectly with a different brand.
Shoe sizes can also differ based on the type of shoe you're buying. For example, heels vs. sneakers. These two types fit very differently and as such the sizes are not always consistent.
But luckily, these variations are mostly minimal, hence size charts help to find the right fit.
How to find the right shoe size online

The problem only gets worse when it comes to shoe shopping online, to the extent that some people opt to never buy shoes online. There has been a constant concern for the online shopping community because you can't try on your purchases until they arrive, since trying on shoes in-store is the best way to check for the right comfort and fit of a shoe. However, on the other hand, some online stores have a larger variety of options and in some cases may be more affordable than in-store options.
Fortunately, there are easy methods you can try at home to find out your shoe size, here is one way:
What you will need:
Ruler or measuring tape
A4 piece of paper
A wall
Pen / pencil
Step 1
Stand with the heel of your foot against a wall, with your foot perpendicular to the wall
Step 2 (Optional)
To get a more accurate measurement, place the piece of paper under your foot length-wise along the length of your foot, leaving some space to make markings for the measurement.
Step 3
Measure the length from the wall to the tip of your biggest toe in centimeters and make note of the measurement
Tip: Make sure to measure both feet as sometimes one foot can be longer than the other
Step 4
Check your size on our shoe size converter here!
Illustration
UK shoe sizes
South Africa uses the same sizing system as the UK which means you have one less size variation to worry about, this is also the system used on the Levante Urban website.
It includes sizes from 0 to 14 for children and toddlers and adult sizes from size 0 to size 15. The actual range of shoe sizes available at any given outlet however depends on the style and brand.
European shoe sizes
European shoe sizes are mostly double-digit numbers ranging from size 15 for children and toddlers to size 50 for tall adults. The size numbers may seem odd here in South Africa however a conversion table will definitely help you get the right UK/SA size.
US shoe sizes

The US shoe sizing system works similarly to the UK/SA shoe sizing system such that it has separate numbering for adults and children. They are usually about 1 or 2 numbers higher than the UK/South African shoe sizes. For example, a ladies' size 5 in SA would be a US size 7 and a men's size SA size 7 would be a US size 8.
In summary
Getting the right shoe size can be a bit of a challenge as we've covered, however once you know the exact length of your feet it can make the process of finding your size much easier.
Sometimes you might need to try one size up or one size down if the shoe size you have established is for you doesn't quite fit right, however, once you know your typical size as well as how to convert a US, EU or UK size in South Africa, it will make shopping for shoes online much easier and less stressful.